Ethereum Protocol Engineering Update – PegaSys June 2020
We've been heads down in June, and we hope you've been feeling the same optimism and excitement about the Ethereum ecosystem recently. Across our existing products - Teku, Besu, PegaSys Plus, and Orchestrate - we continue to see enterprise adoption for Ethereum mainnet and private solutions.
---
The ConsenSys Partner Program
The PegaSys partner program has historically offered support and services to PegaSys partners looking to build enterprise Ethereum solutions. Last month, ConsenSys announced the ConsenSys Partner Program, which will include both the PegaSys and the Codefi product suites.
Our existing PegaSys partners will become ConsenSys partners, and the opportunity to join is open to others. The ConsenSys Partner Program offers technology partners, systems integrators, application firms, and software vendors access to custom benefits and new business opportunities with our leading blockchain products.
---

Hands-On with Hyperledger Besu
Sign up for our free four week program where we walk you through how to set up and use Hyperledger Besu, and learn more deeply about the features of this Ethereum client from the team that builds and maintains it.
Looking Ahead to Besu 1.5
In July, PegaSys will be releasing Hyperledger Besu 1.5, a client upgrade that will include significant improvements to your mainnet and/or private chain needs. Madeline Murray, protocol product owner at PegaSys, put together a snapshot of what the 1.5 upgrade will include with respect to privacy features. Check out her article and get a preview of what to expect in a few weeks. Read Privacy in Besu 1.5.
Interested in additional features and support services? Contact us about PegaSys Plus.
More Besu News and Resources
Running a Hyperledger Besu Node on the Ethereum Mainnet: A complete guide, including benefits, hardware and software requirements, and a step-by-step setup tutorial.
LACChain's "citizen-to-citizen" DAVID19 platform is using Hyperledger Besu to help users securely share data and create an interactive coronavirus tracking map across Latin America and the Carribean. Read more about the partnership.
---

PegaSys Plus News
In case you missed it last month, the PegaSys Ethereum Suite Is Now on Microsoft Azure Marketplace: ConsenSys and Microsoft are collaborating to help enterprise developers seamlessly build private networks and securely interact with the Ethereum mainnet.
Want to join the ConsenSys Partner Program? Learn more and partner with us for support, access, and service to world-class Ethereum solutions.
---
Orchestrate: Simple Transactions for Business
PegaSys Orchestrate is a transaction management software that sits on top of Ethereum client infrastructure. Orchestrate facilitates fast, easy, and secure transactions between the Ethereum blockchain and business applications. Learn more about PegaSys Orchestrate.
How PegaSys Orchestrate Solves 4 Key Enterprise Blockchain Security Challenges: From private key management to access control, PegaSys platform helps enterprises address critical security considerations when taking blockchain applications to production.
---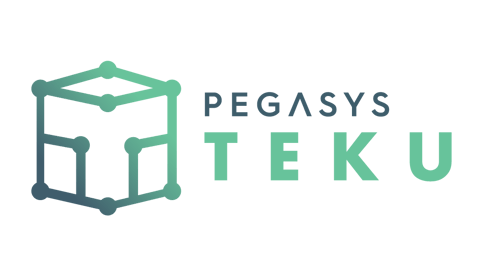 Ethereum 2.0 Protocol News
All signs point to Ethereum 2.0 being right around the corner. 2020 should see the launch of Phase 0, which will implement the Proof of Stake consensus mechanism on the beacon chain. ETH holders will have new opportunities to earn rewards by staking on the new network. PegaSys has developed a solution to provide the same capability to enterprises interested in capitalizing on the next phase of the Ethereum mainnet.
PegaSys Teku is the enterprise-grade staking client for businesses seeking to take advantage of the opportunities provided by Ethereum 2.0. Built by the same team behind Hyperledger Besu, the Teku client allows businesses to position themselves at the forefront of the Ethereum 2.0 launch.
If you are building a staking solution or handling large numbers of validators, we'd love to hear from you and support your project! Contact us here.
Want to learn more about Ethereum 2.0?
Check out ConsenSys' new Ethereum 2.0 Knowledge Base, a complete library of FAQs, resources, and product information to answer all your questions about Eth2.
---
Event Resources
On-Demand Webinar – How to Launch a Central Bank Digital Currency on Ethereum
Missed our June 10th webinar with Aadhara about Launching a CBDC on Ethereum? Check out the recording here.
On-Demand Webinar – CBDCs and Stablecoins
Missed our May 14th webinar about the future of Central Bank Digital Currencies and stablecoins? Check out the recording here.
---
Enterprise Resources
---
Developer Resources
We're pumped to launch our brand new ConsenSys Discord. The ConsenSys Dev Rel team's mission is to break down our walls and work more closely with all of you to keep pushing Ethereum forward. We built this server to help facilitate holy shit moments, tool sharing, and deep collaboration.
The Microsoft Blockchain Development Kit for Ethereum: The dev kit now supports Hyperledger Besu directly, making it easy to deploy private consortium networks on Ethereum.
Security Spot Checks: ConsenSys Diligence's 1-day reviews help you build security into your code from the start so you can save time and money as you move to production.